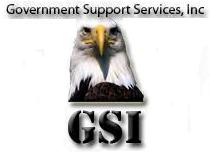 GSI - Government Support Services, Inc.
5999 Stevenson Ave., Suite 410
Alexandria, Virginia 22304
USA
www.gsi-us.com
GSI is a government contractor company established in 1999 has provided unmatched Just-in-Time professional support to its government and commercial clients. GSI's recently decision to support Mobile Aerospace Engineering was a part of its strategy to diversity into commercial aircraft maintenance and subsequently migrate into military aircraft maintenance in the government contracting.
GSI was found on a simple but effective business principle – Employee Centric + Quality Workforce = Highest Performance Standard
GSI pays BETTER RATES in the industry
Qualified TRAVEL REIMBURSEMENT.
BETTER BONUS in the industry
LARGEST REFERRAL BONUS in the industry
Eligible employees receive the BEST FRINGE BENEFITS in the industry
As a premier U.S. Small Business Administration recently graduated Section 8(a) business, GSI has earned an exceptional reputation for customer satisfaction. GSI earned this distinction through its HIGHLY MOTIVATED QUALITY WORKFORCE.
Current Job Openings at GSI - Government Support Services, Inc.:
Current Contractor Jobs at GSI - Government Support Services, Inc.: