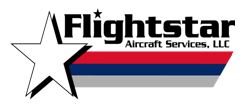 Flightstar Aircraft Services Inc.
6025 Flightlne Road Bldg 815
Jacksonville, Florida 32221
USA
www.flightstarjax.com
Flightstar is a new breed of heavy aircraft maintenance, repair and overhaul providers. Since the company's founding in 2000, we have consistently delivered on our promise of customer focused value. This means we deliver a quality product that is fairly priced and on schedule, each and every time. In aviation, quality and schedule are paramount and while other repair stations claim they are the best or the leaders, we have steadily developed a loyal repeat customer base by consistently delivering value.
Current Job Openings at Flightstar Aircraft Services Inc.:
Job - Maintenance -
Machinist
Jacksonville, Florida, USA
Types of Aviation and Aerospace jobs at Flightstar Aircraft Services Inc.:

Job - Administration - Payroll Coordinator
Jacksonville, Florida, USA
Job - Maintenance - GSE Technician
Jacksonville, Florida, USA
Job - Accounting - Payroll Coordinator
Jacksonville, Florida, USA
Job - Other - Training Manager
Jacksonville, Florida, USA
Job - Administration - Maintenance Planner
Jacksonville, Florida, USA
Job - Other - Environmental, Health and Safety Technician
Jacksonville, Florida, USA
Job - Engineering - Senior. Structural Engineer
Jacksonville, Florida, USA
Job - Other - Materials Support Specialist
Jacksonville, Florida, USA
Job - Other - Project Support Assistant
Jacksonville, Florida, USA
Job - Other - Production Coordinator
Jacksonville, Florida, USA
Job - Inventory/Parts - Materials Supervisor
Jacksonville, Florida, USA
Job - Inventory/Parts - Receiving Inspector with A&P License
Jacksonville, Florida, USA
Job - Inventory/Parts - Stockroom Clerk
Jacksonville, Florida, USA
Job - Inventory/Parts - Purchaser
Jacksonville, Florida, USA
Job - Engineering - Liaison Engineer
Jacksonville, Florida, USA
Job - Engineering - Liaison Engineering Technician
Jacksonville, Florida, USA
Job - Inventory/parts - IPC Technician
Jacksonville, Florida, USA
Job - Maintenance - All position, Flightstar Jacksonville, FL is in Oklahoma City, OK 10.23.2012
Jacksonville, Florida, USA
Job - Inventory/Parts - Purchasing Manager
Jacksonville, Florida, USA
Job - Maintenance - Aircraft Mechanics and QC Inspectors JOB FAIR
Charleston, South Carolina, USA
Job - Avionics - Avionics Supervisor
Jacksonville, Florida, USA
Job - Inventory/parts - Supply/Demand Planner
Jacksonville, Florida, USA
Job - Maintenance - Aircraft Mechanics and QC Inspectors JOB FAIR
Lake Charles, LA, Louisiana, USA
Job - Maintenance - Instructor - Training Development Specialist
Jacksonville, Florida, USA
Job - Engineering - Industrial Engineer
Jacksonville, Florida, USA
Job - Maintenance - Maintenance Planner
Jacksonville, Florida, USA
Job - Maintenance - Aircraft Mechanics - Job Fair San Antonio, TX
San Antonio, Texas, USA
Job - Avionics - Avionics Technicians - Job Fair San Antonio, TX
San Antonio, Texas, USA
Job - Maintenance - QC Inspectors - Job Fair - San Antonio Friday
San Antonio, Texas, USA
Job - Inventory/Parts - Materials Manager
Jacksonville, Florida, USA
Job - Inventory/Parts - Tool Room Manager
Jacksonville, Florida, USA