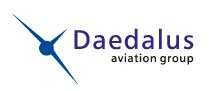 Daedalus Aviation Group
P.O. Box 6004
Clearfield, Utah 84089
USA
www.daedalus.nl
We take care of the acquisition, selection, and secondment of specialized technical personnel for maintenance work on the F-16s and helicopters belonging to the Royal Netherlands Air Force.
As an ISO-9000-2000 certified company, we have well over 100 technical specialists of various nationalities in our employ.
The company's activities have now been substantially expanded and, in addition to helping to keep F-16s operational, Daedalus also assists with the maintenance of Apache AH-64D, Cougar AS-532, Bo-105 and Chinook 47-D helicopters.
Recently we also started assisting the Royal Norwegian Air Force in F-16 maintenance.
Boeing, Lockheed, Eurocopter, MBB.
CH-47D, AH-64D, F-16, Cougar AS-532, Bo-105
Types of Aviation and Aerospace jobs at Daedalus Aviation Group:

Job - Maintenance - Cougar AS-532 Mechanic Specialists
Europe, International, International
Job - Pilot-Fixed Wing - Pilot F-27
Dubai, International, International
Job - Maintenance - Maintenance Supervisor
Netherlands, International, USA
Job - Maintenance - F-16 NDI Technicians
Norway, International, International
Job - Maintenance - F-16/Sea King Sheetmetal/Structures Technicians
Norway Europe, International, International
Job - Paint - Helicopter Painter Technician
Woensdrecht, The Netherlands, International, International
Job - Maintenance - Helicopter Sheet Metal Technician
Woensdrecht, The Netherlands, International, International
Job - Avionics - AH-64 D Longbow Avions/Electrics Techs
Gilze-Rijen, The Netherlands, Military, International
Job - Maintenance - AH-64 D Longbow Phase Mechanic specialist
Woensdrecht, The Netherlands, International, International
Job - Avionics - CH-47 D Avionics/Electronics Specialist
Netherlands, International, International
Job - Maintenance - CH-47 D Mechanic Specialist
Netherlands, International, International
Job - Avionics - Needed Urgently: Fokker 27 Engineer
Dubai, International, International
Job - Maintenance - F-16 Phase Mechanics
Netherlands Europe, International, International
Job - Avionics - F-16 Avionics technicians
Norway Europe, International, International
Job - Maintenance - F-16 Crew Chiefs
Norway, International, International
Job - Maintenance - KC10 Mechanic
Netherlands Europe, International, International
Job - Maintenance - C130 Mechanic
Netherlands Europe, International, International
Job - Maintenance - P3 Orion Crew Chief
Netherlands Europe, International, International
Job - Maintenance - P3 Orion Sheetmetal Mechanics
Netherlands Europe, International, International
Job - Maintenance - A-10 thunderbolt Mechanic avionic/Electric or mechanical
Europe, International, International
Job - Maintenance - C130 technician A&P/ FCC
The Netherlands, International, International
Job - Avionics - F-16 Avionic/Electronic Technicians
Norway, International, International
Job - Avionics - F-16 AIS/IAIS system technician
Norway, International, International
Job - Avionics - Sea King Avinics technicians
Norway Europe, International, USA
Job - Maintenance - F-16 Sheetmetal Specialists
Norway, International, International
Job - Avionics - F-16 Avioncs Technicians
Norway, International, International
Job - Avionics - Sea King Avionic Technicians
Norway, International, International
Job - Maintenance - F-16 Mechanics
Norway, International, International
Job - Maintenance - Sea King Technicians
Norway, International, International
Job - Maintenance - F-16 Core Module Engine Technician
Woensdrecht, Netherlands, International, International
Job - Avionics - B2 AH-64D Specialist
, International, International
Job - Maintenance - AH-64D Avionics/Electrics Maintenance Technician
Air Base Woensdrecht, The Netherlands, Military, International
Job - Maintenance - Sheet Metal Specialist
Norway, International, International